Commissioner Meisner's 2022 League of Women's Voter Forum, ABC Chapter
Commissioner Meisner Announces
Re-election Campaign
FRIDLEY, MN, April 10 – Commissioner Mandy Meisner has formally announced the kick-off to her reelection campaign. Commissioner Meisner is proud of the work she has done and has goals for her second four-year term representing Fridley, Columbia Heights, Hilltop, and part of Spring Lake Park. "I am excited to continue my work for the residents of District 7, we accomplished a lot over the last 4 years but there's much more to do," Meisner said. As Commissioner, Mandy has built strong relationships with Anoka County staff, state, city, non-profit and community leaders to ensure the unique needs of District 7, the most diverse district in Anoka County, are being met. Notably, Commissioner Meisner has brought free monthly visits by the Law Librarian to help residents with Family Law, Criminal Expungement and Housing Issues to the Columbia Heights Library, and brought some of the first COVID vaccine clinics to District 7. She has advocated for public commentary at county board meetings and virtual access to committee meetings, for a countywide internship program, and to establish a code of ethics for the board of commissioners.
Elected in 2018 as the first woman of color on the Anoka County Commision, to an empty seat vacated by the retirement of long-term Commissioner Jim Kordiak, Meisner has filled a void that few would have been able to fill. She hit the ground running after being sworn in and is known for contributing to her community through working with a variety of local non-profits. Outside of her board role, she has helped to raise significant funds for mental health and addiction services, educational services, Springbrook Nature Center, SACA Food Shelf, Alexandra House and the arts.
She brings her community service experience to her role as Commissioner and continues to forward this important work by serving on the Human Services Committee, Metropolitan Emergency Service Board, the Anoka County Workforce Development Board, and she was appointed to the Mental Health State Advisory Council by Governor Walz in 2021.
"District 4 is a special place and it deserves a special brand of leadership. I am humbled every time I step into the boardroom and am able to work for my neighbors," Meisner said. The election is on Tuesday, November 8 and early voting starts on Friday, September 23. Learn more at www.VoteMandy.com
Commissioner Issues Since Taking Office
Commissioner Mandy Meisner advocates for Map C, the 2022 district map that defeats jerrymandering and keeps all 9 redistricting principles in place. Map C prevails in a final 6-1 vote after Map B fails. April 26th Special Redistricting Board Meeting LINK

Commissioner Mandy Meisner held a Code of Ethics Discussion with Professor David Schultz where she advocated for the board to establish a code of ethics in several work sessions. This did not get majority support and failed. 

LINK

Commissioner Mandy Meisner advocates for best hiring practices and challenges directly appointing the Board Chair as the next County Administrator.  Held on March 26

  2019 (minute 50:10). LINK

On May 14

2019 (minute 58:25) the board appointed the Board Chair as the next Administrator in a 4-2 vote. Commissioner Mandy Meisner dissented. LINK

Commissioner Mandy Meisner proposes a resolution to address racial disparities and recognize the death of George Floyd on

June 9th  2020 (minute 3:50).  It was accepted unanimously by the board. LINK
Mandy's Election Night Victory Speech
North Metro Television Interviews Commissioner Mandy Meisner About County Administrator Position
Archive
League of Women Voters Candidate Forum September 20, 2018
League of Women Voters Candidate Forum September 6, 2018
League of Women Voters and HeightsNext Candidate Forum, 2018
Candidate Spotlight: Mandy Meisner – 2018
Letter of support from former Sen. Barb Goodwin.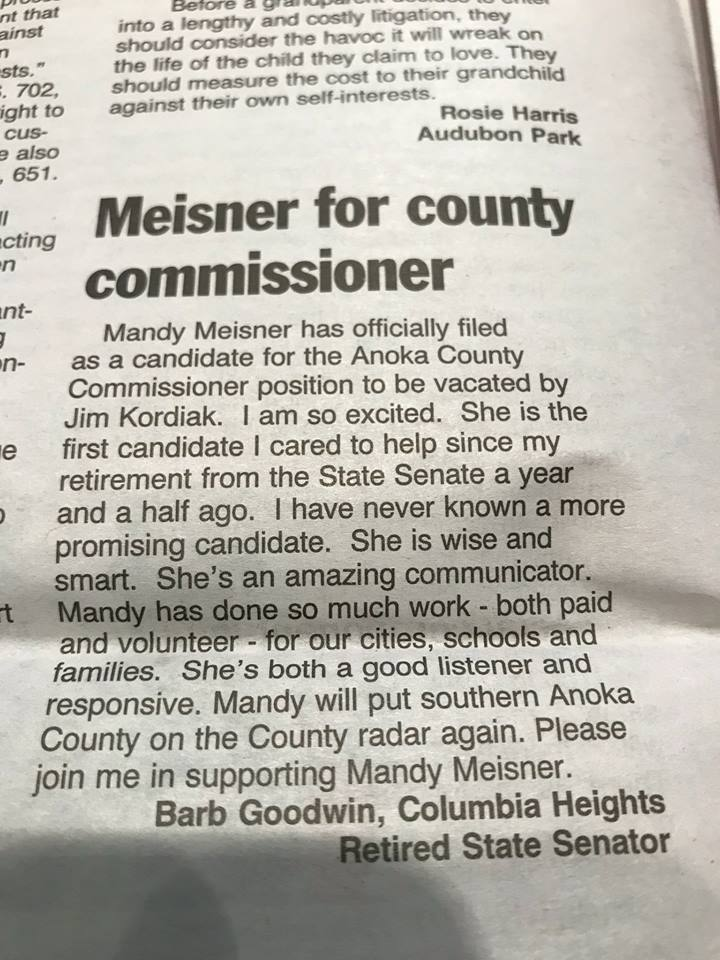 Mandy Meisner, Why I'm running for Anoka County Commissioner?